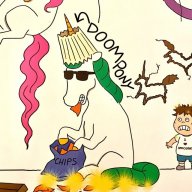 Joined

Mar 26, 2019
Messages

534
Reaction score

1,041
Location
I'd never expected you to be a neocon at heart. Really the writer seems to think force is the first and last step. Yeah, all the policy makers before Trump forgot about economic and military might dictating foreign relations. That TPP or JCPAO really are junk. What the writer seems to say at the core is everything's broken w/o attributing it to the person doing the breaking. See we're letting Russia run amok but forget the sanctions on them aren't really enforced today. Oh Iran, you're behaving badly for your nuke aspiration so we'll let u know whats what. And when they dared retaliate, it shows they cannot be reeled into the world community and exposes our weakness. Really? Trump showed that we need to use less carrot and more stick? Wasn't it us that backed down? Ah, what about China? Really? Using our military to force them to do what we say? TPP was as much a strategic policy as it is a trade policy....oh wait! You don't say! We're flexing our economic might there but someone decided to break it? Oh! And though he thinks that person is an idiot who doesn't plan out their actions, we can see clear doctrines. Some 3 year old was given paint and randomly throws it on a canvass. This writer comes along and sees clear the depravity in the human condition.

We lucked out on a war. Let's not give the child the credit for poking the beehive and getting away with a few stings. Which reminds me. You seem to admire how this administration is balancing aggression with restraint? I'll stand corrected if I'm wrong.
We can look at these things with an academic eye, we can take interest in analysis without directly endorsing the conclusions as being wholly adoptive of our own personal views on the matter. I mean, had I posted an article that observed that the blitzkrieg was particularly effective because the German leadership keenly anticipated that light bombers could be used in direct support of mechanized units to shock defensive positions into quick dissolution, would you say "I never expected you to be a Nazi"? Of course not.
As someone who has in the past studied foreign policy - and one who still subscribes to and reads foreign policy analysis, I find the discussion interesting . . . and no, that doesn't mean I support/endorse whatever policies or actions are discussed. That said, I do think that Trump's Iran policy is fairly evident and that those who say he doesn't have one aren't paying attention. The policy is to break the Iranian economy through sanctions while presenting at least the appearance of an effort to contain Iran's ability to retaliate against U.S. interests in the region through application of military force - a full hot conflict is both undesirable and unnecessary, but enough of a presence and demonstrated willingness keeps Tehran on the defensive, operationally. It is a long game and calculated to bring Iran to the negotiating table with hat in hand and ready to accept the terms the U.S. demands.
On its face, it's not incoherent policy - it calls for measures within our capability and, with the exception of unintended consequences, the identifiable risks are fairly contained. It seems reasonable to conclude that the "maximum pressure" on the Iranian economy will weaken the nation, and that may, at some point, bring them to negotiate. Trump views himself as a master negotiator but his record doesn't lend much support to that idea - except that he does have better success from a position of leverage (who doesn't?), so that's the goal. Regime change would be welcomed but I don't think it's the top line objective.
Of course the policy is flawed. Even if the policy itself proves effective, I don't have any faith in Trump's ability to identify and deliver an effective negotiated resolution - his negotiations with Kim Jong-un have shown that, negotiation instinct notwithstanding, he lacks understanding of key concepts and is both unwilling to learn them and unable to rely on experts within the US apparatus. Those negotiations have achieved next to nothing materially positive and have confused and confounded regional allies.
Moreover, I don't think that the Islamic Republic is ever going to genuinely abandon its nuclear program absent changes in the region that simply aren't going to happen in our lifetimes. No matter what happens with US-Iran relations, Israel is not going to make any sort of meaningful peace over Palestine, and the struggle for regional dominance with the Saudi sunnis isn't going away. Because the US backs Israel and Saudi Arabia, and possesses the capability to take Tehran down with conventional military, the Iranians have to continue to pursue a nuclear deterrent - it's a check on the one regional outcome that is existential for the regime. So how will Trump gain something that they're not going to give? If given the opportunity, he's likely going to be willing to accept something less than the policy objectives in order to present it as a success . . . so far this appears to be how the China trade deals are shaping up. And isn't that what the "problem with the JCPOA" was - an incomplete check on Iran's nuclear ambition?
Finally, I think the manner through which they're executing this policy has real risk of a miscalculation or error in the part that relies military pressure. Trump clearly doesn't want to commit to an actual campaign but exchanges calculated to be limited can easily slip out of control - and I think Trump's idiosyncrasies and the structure has created (or lack thereof really) amplify this risk. And that's bad for everybody (including our military, the economy, civilians in the region and perhaps beyond, etc.), so I think that's why I may appear to be "admiring" where the administration is able to avoid a turn of the screw that tightens the spring of war.
In other words, I think I understand the approach and in recognition that it is what it is, I'm appreciative when I see that restraint exercised - it's critical to the strategy but it's dangerous and this particular president makes me extra nervous. I don't agree with you that we "lucked out on a war", I think it's reasonably widely accepted that Tehran doesn't want to invite more comprehensive US strikes - opting in favor of its usual tactics. The US calculated that taking out Soleimani wouldn't lead to a broader military conflict and it didn't (and it didn't in the past when we killed similar Iranian operational leaders).
But I'm not giving anybody credit for anything except choosing not to elect broader military action. Capicé?
Last edited: