Joined

Nov 16, 2019
Messages

1,177
Reaction score

1,505
Age

49
Location
Is Double Woke a thing now? GOP trying to one up the Dems on being Woke? Is being Anti-Woke worse than being Woke?
I am sure this bill will get Vetoed by the Gov there, but wow...
according to Republican Chuck Wichgers of Muskego, the government intends to prohibit:

Critical Race Theory (CRT)

Social Emotional Learning (SEL)

Diversity, Equity, and Inclusion (DEI)

Culturally responsive teaching

Centering or de-centering

Conscious and unconscious bias

Cultural appropriation/misappropriation

Culturally responsive practices

Free radical self/collective care

Internalized racial superiority

Internalized white supremacy

Intersectional identities

Marginalized/Minoritized/Under-represented communities

Protect vulnerable identities

Racial sensitivity training

Representation and inclusion

Systems of power and oppression
Then they go even further:
a parallel bill is determined to ban private companies from doing diversity training for employees! This is the kind of thing the First Amendment was actually concerned with, as opposed to college students telling you to fork off. The latter is what this country is all about.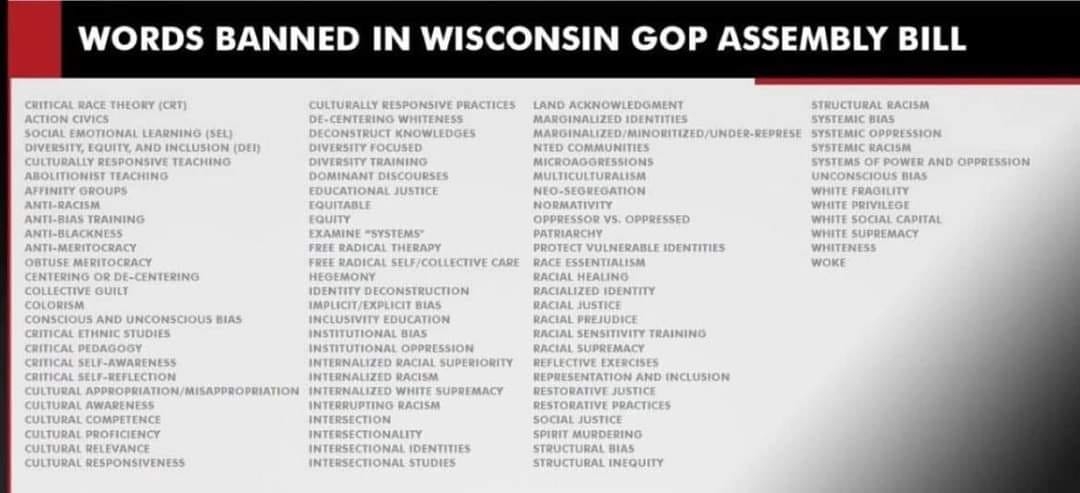 After years of hysteria about free speech on college campuses, state legislatures are actually trying to police what people can discuss in schools.
www.esquire.com