Joined

May 17, 2019
Messages

2,760
Reaction score

4,675
This is not typical tinfoil "Trump won't give up the presidency" conspiracy. This is a legitimately possible situation in our upcoming election, following the legitimate rules of the vote.
So I went to CNN.com today and played around with the Road to 270 generator for about 5 minutes before stumbling on this disaster. As it stands, they currently have the states listed in yellow as battlegrounds: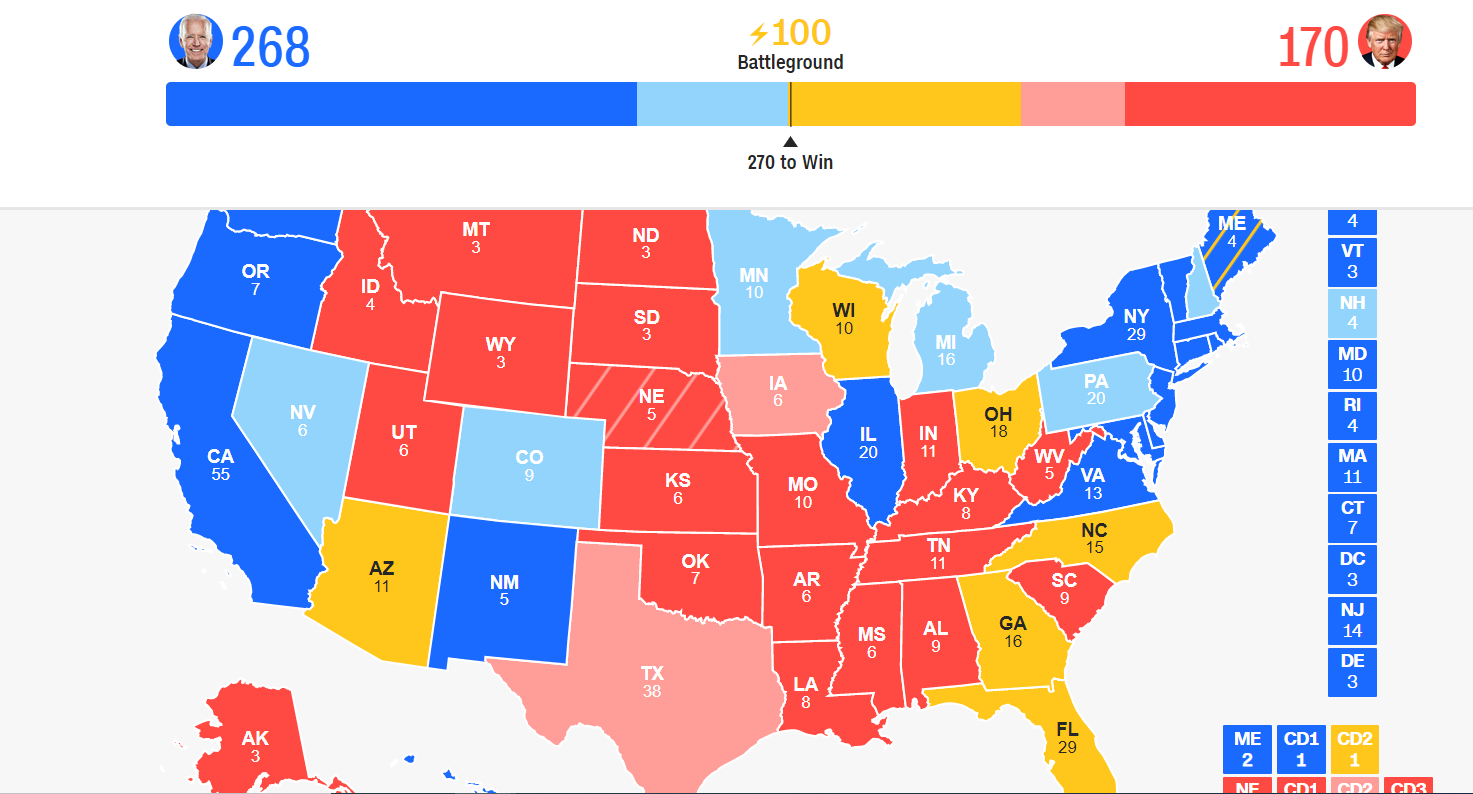 And while those are all battlegrounds, it's absolutely within the realm of possibility that Trump wins all of those states. How do I know that? Well, he won every single one of them in 2016:
So check out the Constitutional crisis that ensues if you give all of those states to Trump except for Maine's second district:
In this completely plausible scenario, Trump likely does not win the popular vote (he has fewer states than he did in 2016), and he ties the electoral college. According to wiki, in this scenario, each state then gets
one
vote (DC does not get a vote) instead of the normal electoral college number.
Wikipedia said:

Presidential election

Pursuant to the 12th Amendment, the House of Representatives is required to go into session immediately after the counting of the electoral votes to vote for president if no candidate for the office receives a majority of the electoral votes. In this event, the House is limited to choosing from among the

three

candidates who received the most electoral votes. Each state delegation votes

en bloc

, with each state having a single vote. A candidate is required to receive an absolute majority of state delegation votes (currently 26 votes) in order for that candidate to become the

president-elect

. The District of Columbia, which is not a state, does not receive a vote. The House continues balloting until it elects a president.

Historically, a delegation that did not give a majority of its vote to any one candidate was marked as "divided", and thus did not award its vote to any candidate. This practice, set by

House rule

, was responsible for turning the Jefferson–Burr election of 1801 into a multiple ballot election. It was not a factor in the 1825 contingent election. The House could modify the rule for future contingent elections if it so chose.

Additionally, previous contingent presidential elections were held in

closed session

, and as such, the vote of each individual representative was not explicitly revealed outside the

House Journal

. The Constitution does not require a closed session for contingent elections, and future contingent elections could be held in an open session with public voting.

[2]
In this scenario, Trump wins 27 states, Biden wins 23 states, and Trump wins the presidency with neither a popular nor electoral majority.
Last edited: